Currently there are over 20,000,000 Internet users in Japan, and this will expand dramatically in the next year. As the Internet has expanded in Japan,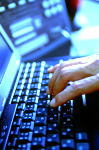 sales through Internet related businesses have grown at equally rapid pace.Recently the sales of mobile phones with Internet access has also exploded and this market is wide open for anyone who wishes to exploit this opportunity.

Up to now the high cost of entering and maintaining a presence in the Japanese market has been a barrier to entry for all but large companies, but through the Internet and the services of tap-Japan these costs have been reduced dramatically. For a small initial start-up cost, returns could be astronomical.

A Japanese web site needs to be designed specifically In order to appeal to and get the confidence of Japanese customers, it must confirm to Japanese regulations, both official and unofficial. Few non-Japanese web sites do this.

Tap-Japan provides a low cost way of

Constructing and designing a web-site for the Japanese market.
Advertising and promoting that web-site in the Japanese market,
Backing up and the support of web-site operations in Japanese.
There are three major barriers to companies wishing to operate in the Japanese market.


the maze of rules and regulations.
the language barrier.
navigating the Japanese Internet, portals and search engines.
We will help you overcome these barriers by providing expert advice and support in both areas.

Our History